So, after a few rather cold days at the beginning of May, which made wearing skirts and dresses a bit more difficult (mostly because I didn't want to wear tights after going bare-legged for the last half of April) summer has made an appearance in Berlin! We had around 28°C today and even now, at almost midnight, it's still 20°C. I love summer...
(Also: look at my new hat!) My No Jeans challenge is going pretty well, apart from about 4h this weekend, when I totally forgot about it and went to a party wearing jeans... Only dresses and skirts for the rest of the time, though, and I think I really need a couple more jersey dresses. So comfy! I found a lovely light green jersey at the fabric market last weekend (along with a white polka dot cotton and some semi-sheer fabric, photos coming soon!) that might make a cute wrap dress...
I had a lovely weekend, too. My stepdad and I visited the Baltic Sea and I had time for a walk along the beach.
Then we met for a lovely breakfast on Sunday and spent most of the day in the park. Afterwards I had choir practice then went to the fair with some of my friends. I had a candy apple and went on one of the wheeeeee-rides! You know, the ones that spin and go very high and put you upside down? I hadn't been on one for ages and it was hilarious! :)
So, not a lot of sewing going on, but I stumbled over some really nice tutorials:
Casey made a lovely tutorial for a very retro looking scalloped collar! Here are
part 1
and
part 2
:
And another scallop tutorial! (Yes I think they are awesome...)
Button up scallop skirt pattern&tutoria
l by nette:
And: an eye opening
slash pocket tutorial
by Tasia, as part of the Crescen Skirt Sewalong. I never thought about making the whole pocket from one piece of fabric! (Obviously, I also next to never sew with patterns...)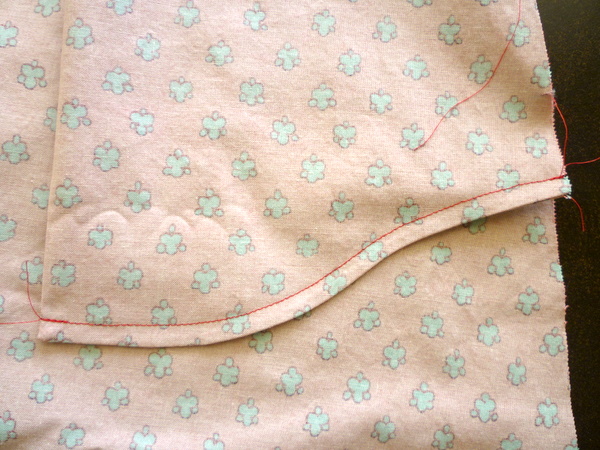 And here is a tutorial via Oh! The Cuteness, who posts links to pretty awesome tutorials every Tuesday. My favorite this week: lovely hand-made notebooks by Sasha!
So, I have another pretty busy day tomorrow, telling kindergarten kids about healthy eating as part of our teddydoc clinic, then classes, then a project meeting for the healthy eating thing and afterwards I'm going to the theater with my boyfriend! But I've planned some sewing for the end of the week...
Have a lovely week everyone!