So, I'm turning 25 today - a quarter century! And the weather has even turned warm and sunny again in honor of my birthday! ;)
It's funny, I usually ask myself every year if I have changed, if I feel older, and usually I think "nope, same old, same old". I guess the changes that happen are just too gradual. I did pick up some changes this year, though. Mostly concerning my "being relaxed with myself", I think. I participated in a couple of improv/stand-up theater workshops this year, and I managed to be way more relaxed with the improvisation part, just going with it instead of thinking "oh no, what to do, what to do??". I mean, I've always been ok with being on a stage. Playing an instrument and singing in the school choir, and later in my drama group. I've never had problems doing a presentation in front of the class. But I was never comfortable with being put on the spot, and the one time I got a solo line in a choir song (back in my junior year), I almost couldn't sing for hyperventilating. *g* I had a bit of a solo improvisation in our recent choir concert, and not only did I ask for it, I managed to do it without getting terrified. :) (Honestly, it didn't turn out wonderful, but we hadn't rehearsed it, so it was ok... *g*)
Ok, enough introspective rambling!
Not only is it my 25th birthday today, my blog has also recently acquired its 25th follower! I think it's pretty awesome that not only are there people out there who read what I write - you care enough to come back and read regularly, to post comments, and that is a great feeling. Being part of this Sewing Blogger Community, giving and receiving feedback, getting to know you all, even if sewing is just a small part of your life - it's great and it means a lot to me!
So, to celebrate you lovely people, along with my birthday, I've decided to have a giveaway!
First, I'm giving away one matching set of handmade jewellery. It consists of a fabric necklace, bangle bracelet and button earrings. I actually haven't made the bracelet and earrings yet, but here is a picture of the necklace, made with
Tilly's tutorial
. :) I'm going to use the same fabric for the bracelet and earrings, it's a dusky blue with roses printed on it.
The second item I'm giving away is a
Lonsdale Dress
pattern from Sewaholic! The timing of Tasia's new pattern announcement was so conspicuous that I decided I had to give away this pattern for my birthday... :) Also, the dress looks so cute and perfect for summer!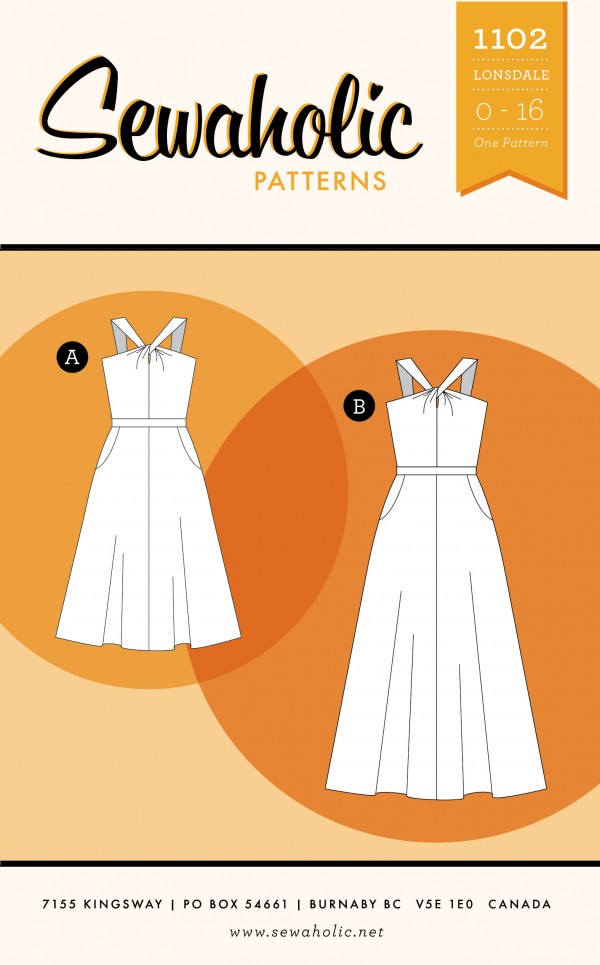 Now, the giveaway is open until
July 13, 23:59 GMT
and everyone can enter. If you'd like to participate, please answer this question:
What was your favorite birthday gift, ever? Also, what is your favorite birthday cake/treat?


Please also specify which of the two prizes you'd prefer. Don't forget to leave your name and a means to contact you (if you link your blog, that should be alright). Of course I'd prefer for you to be a reader of my blog, but since I can't verify it anyway, if you stumbled over this giveaway by accident, feel free to enter anyway. And while you're here, why don't you read some more and maybe you like it enough to come back? ;)
I hope you're having an awesome day and a wonderful rest of the week!