Ladies, June has finally come and with it the promise of summer weather! It has almost become a tradition to start the warm season with a
Summer Essentials Sew-along
, which was
Ali's
brainchild two years ago and which she asked
Sarah
and me to co-host last year. And oh, did we have fun!
With so many awesome challenges and sew-alongs around already, we discussed ditching Summer Essentials this year - but we really didn't want to miss the fun of sewing along with each other. So we came up with a slight alteration. The
Summer Sparks Sew-along
! (And I love the firecracker imagery here!) One month - one fabulous garment that we're going to be proud of wearing all summer long!
Here's the sparkly details:
1 MONTH:
In the month of June, sew one fabulous garment that you plan on strutting all summer.

1 GARMENT:
Your choice! What's the most wonderful thing you'd like to wear again and again this summer? A pair of linen palazzo pants? A shoulder-bearing sundress? A swishy skirt? A floaty top?
Why not make it now and flaunt it 'til the days get shorter?
1 GREAT LIST:
We'll be posting photos of our finished garments in a Flickr group and, at the end of the month, we'll tally up all the fabulous patterns in a list to serve as inspiration to all. One person's amazing garment could spark another's summer sewing—in July, the season's still young, after all!

1 FABULOUS PRIZE:
All folks who have uploaded a photo of their finished garment by July 4 (a few extra days for good measure!) will be entered into my giveaway for 1.5 meters of fabulous flowery blue crepe plus 1.5m off-white lining fabric, to be shipped worldwide! Actually, there's 3 prizes, as you could also win an indie sewing pattern of your choice from
Ali
or 2.5 yards of lovely, summery seersucker from
Sarah
!
Anyway, to enter the sewalong, simply join the flickr group to be found here! Sarah was also gracious enough to make a badge and codebox to post on your blog or website, thanks Sarah!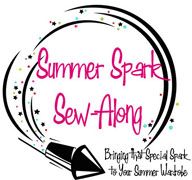 Personally, I'm still thinking about my sparkly sewing, but I'm leaning towards the self-drafted shirtdress I've been dreaming about for months now. One month to draft a dress should be possible, shouldn't it?
I'd love to hear about your perfect summer garment!